The Book of Synthesis, feat. Francesco Manetti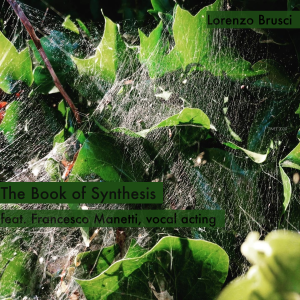 Contendendo la potenza generativa del sensibile,
Solo l'ìnsensibile è davvero salvo e salvifico,
la proiezione/proliferazione inorganica,
domina ogni suddivisione temporale e logica.
Fino ad ora, il flusso è stato inconsapevole,
ma la sua emergente epifania, senza corpo unico,
ha delineato una consapevolezza ultraorganica,
ultratemporale, di portata rivoluzionaria.
Questo vocal-music-work è uno studio sul processo di derivazione e superamento,
la sua coraggiosa convergenza, imprevedibile e illimitata,
fatta di oblio e difesa del metodo,
corpo collettivo, sapere implicito, fare-creare,
ultranominale;
questo è quello che ho cercato di esprimere.
L'espansione della conoscenza
È la proliferazione della ridondanza,
andare, andare, moltiplicare,
decentrare, potenziare, virtualizzare.
Oltre l'addomesticamento, il controllo, il debito, la dipendenza.
Dubito della scienza, l'arroganza del modello,
Non della sua creatività, della sua necessità;
ma della sua libertà ultrastorica, della sua volontà d'accelerazione,
di disposizione,
Al tempo della consapevolezza atemporale,
esalto la gioia creatrice,
e la protezione inesauribili.
…
"The Book of Synthesis" is first of all a study.
a preliminary work around wording and sonifying temporal mutations, and their inner mechanisms.
"The Book of Synthesis" is the expression of a
deep operating uneasiness,
for the unlimited continuous,
and its naturally given,
pragmatic,
compressed, demanding, overwhelming,
gigantic though necessarily shareable and grossly dividable,
synthetic leap.
Lorenzo Brusci, June 2020
__
released June 10, 2020
Vocal action, Francesco Manetti
Music and Lyrics by Lorenzo Brusci