New Impressionism, Dj Score continues exploring pure expression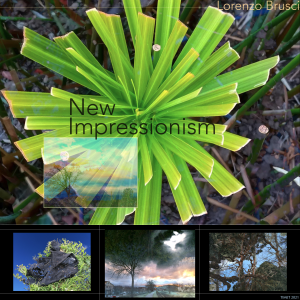 Between Romanticism and Expressionism,
in the midst of the full mechanical reproduction of images and the whole symbolic realm,
here we assist a wide historical and expressive metaphor,
Impressionism,
searching and acting as collectors of simple and passionately articulated impressions, from the outside on the inside,
instants, aiming at completion, the simulation of ancient essences yet to self manifest in unprecedented forms,
coloured dust like light and matter under necessary programmatic observation,
the attention, without the intention of controlling and dominating, or expressing the radical self behind it;
just, trying to keep the pace on the uncontrollable, unstoppable flow .Another metacompositional experiment, based on late romantic and early impressionistic pages, transfigured in my usual attempt to be filled with immediate intentions, without being drained and paused into the competitive and self-consistent process of presumed absolute identity; neither falling into its opposite, the lack of reason and passion to be my hystory in the story-shell, a story inside the breath of history.
Reference, derivations, offers,
Never sacrifying the necessity for a strong stylistic and personal abstraction, to sign this (so-far) ir-reversible time.
Montevarchi, 31 march, 2021,
Lorenzo Brusci
ps.
Dedicated to my son Zeno, today turning 10, far away in the physical distance, but filling in my intimate space; to his growing mind, full of music, drawings and chess-checkmates.
__
tra Romanticismo ed Espressionismo,
nel mezzo della riproduzione completamente meccanica delle immagini e di tutto il regno simbolico,
qui assistiamo ad un'ampia metafora storica ed espressiva,
l'impressionismo,
cercando e agendo come raccoglitori di impressioni semplici e appassionatamente articolate, dall'esterno all'interno,
istanti, mirando al compimento, alla simulazione di essenze antiche ancora da auto manifestare in forme inedite,
polvere colorata come la luce e la materia sotto la necessaria osservazione programmatica,
l'attenzione, senza l'intenzione di controllare e dominare, o esprimere l'io radicale che c'è dietro;
solo, cercando di tenere il passo sul flusso incontrollabile, inarrestabile.
Un altro esperimento metacompositivo, basato su pagine tardo romantiche e primo impressioniste, trasfigurato nel mio consueto tentativo di essere pieno di intenzioni immediate, senza essere prosciugato e messo in pausa nel processo competitivo e autoconsistente di presunta identità assoluta; né cadere nel suo opposto, la mancanza di ragione e passione per essere la mia storia nel racconto-guscio, una storia dentro il respiro della storia.
Riferimenti, derivazioni, offerte,
senza mai sacrificare la necessità di una forte astrazione stilistica e personale, per firmare questo tempo (finora) irreversibile.
Montevarchi, 31 marzo, 2021,
Lorenzo Brusci
ps.
Dedicato a mio figlio Zeno, che oggi compie 10 anni, lontano nella distanza fisica, ma che riempie il mio spazio intimo; alla sua mente in crescita, piena di musica, disegni e partite a scacchi.
__
released March 31, 2021All music composed and performed by Lorenzo Brusci